Useful Features of your Android device
The World of Android developer is full of tricks and functions very useful, some are more used than others or worse, some go unnoticed and are only used by a minority of very curious users, or people who take the time to read the entire manual , but don't worry here we show you those basic but important functions that your Android device offers you. You Do Not need to have 10 years with an Android to be an expert on the subject, only to read our post you can give optimal use to your Android.
And Here we name these functions of samsung Androide That every user should know to make his experience in the world more comfortable google android. Useful Android Function

1 – Screenshot
The most useful feature that Android offers is the screenshot, this great ally allows us to store in the phone's memory a picture of the screen and all the information on it. The controls of this function are almost always pressing both the power buttons and the volume down.

2 – Disabling system applications
[Copyright -Xatak android]
This Useful Android Function on Android has several applications of factory, that the system does not let uninstall but fortunately we have the option to disable them from the information of the application, from "Settings > Applications "
3 – Turn OFF Notifications:
[Copyright -Xatak android]
If you no longer want to receive notifications of any application just simply enter the application Information and from there we can control and disable application notifications.

4 – Reset an application:
If any application starts to fail, or just want to reset an application or game to be as newly installed, ie without any data, we can do it from application Information. We just have to search for the application and click on Delete the application data.
5 – Clear Application Cache:
[Copyright-Xatak android]
If we are running out of free storage we can clear the cache of all applications from "Settings > Storage ". We will only have to search for the application in [Settings-Applications] and press "Cached Data ". So We will release some space without having to delete applications or files.
6 – Shortcut to Quick Settings:

In Most Android devices there is a very useful shortcut to quickly access the quick adjustment bar, in this are the icons that have been configured to appear in the Quick Settings bar, its main reason is to prevent the user Or you have to open the notification bar first. To do this we only have to slide two fingers from the status bar.
Useful Android Function
–

Force restart:
If at any time your phone is locked and does not react or to restart it, the solution is the forced restart, for this hold the power button down for 10 seconds or more.
– Restart in Safe mode:
[Copyright -Xatak android]
If we see that our Android device works badly we can go into its safe mode to see if it will be something of some third-party application. To Enter the Safe mode you only have to make a long press in the Turn Off option.
– Expand Notifications:
[Copyright -Xatak android]
One of the most attractive innovations of Android are the expandable notifications. With just one finger or two we can expand many of the notifications to read more information.
– Access application settings from your notification:
[Copyright – Xatak android]

With a long press on a notification we will be able to access your information and configuration, in addition to discovering which application has generated that notification.
– Enable Development Options:
[Copyright -Xatak android]
Starting with Android co 4.2 (Jelly Bean) development options are hidden. To Activate the development options we have to go to "Settings > phone Info " and press several times in "Compile Number "
– Easter Egg:
[Copyright -Xatak android]
In "Phone Info " We can also discover the famous Easter egg from Android. To do this we have to press several times and quickly on "Android Version "
– Limit Background Data: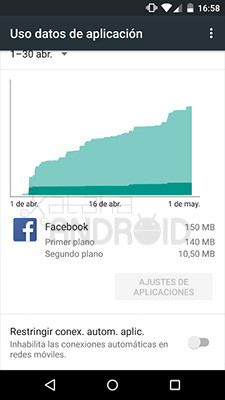 [Copyright -Xatak android]
Another useful feature of Android is found in "Settings > data Usage " We can say that applications want not to connect to the Internet in the background. This option may appear as "Restrict Conex. Autom. App "or" Restrict background data "
android, google android, androide, samsung android, android developer